Current Projects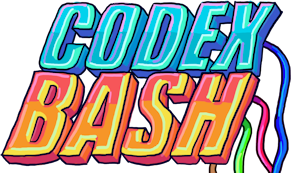 Four wirelessly-connected buttons that can be placed anywhere in a venue - from schools to gyms, tied to trees or attached to people!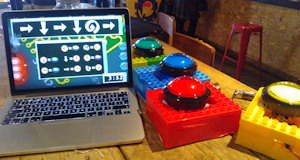 Combining visual problem-solving and physical movement, Codex Bash tasks players with deciphering coded messages and running around a room to input them using the buttons.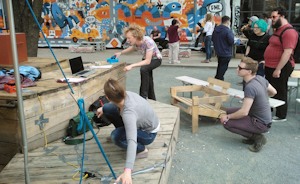 Codex Bash has been displayed at A MAZE Berlin and Indievelopment Utrecht. Find out more by watching the trailer or reading about it on my development blog.
Recent Events
Indievelopment, Utrecht
Live demo of Codex Bash
15 May 2015
A MAZE, Berlin
Live demo of Codex Bash as part of the Open Screens exhibit
23, 25 April 2015

Indie Game Collective, London
Hosting of microtalks, and microtalk on Learning from Positive Feedback
6 March 2015
GameCity 9, Nottingham
New installation-based version of Tap Happy Sabotage
25 - 30 Oct 2014
EGX Expo Leftfield Collection
Exhibiting Tap Happy Sabotage
25 - 28 Sept

GEEK Expo
Exhibiting Tap Happy Sabotage
19 - 20 Sept 2014 
Gamescom, Cologne
Exhibiting Tap Happy Sabotage at Unity Technologies showcase
13 - 15 Aug 2014
Join - Local Multiplayer Summit, Berlin
Talk/Q&A on touchscreen multiplayer
9 Aug 2014
Develop Conference 2014, Brighton
Thinking Bigger: Developing for Large-Scale Touchscreens
8 July 2014
Indie Games Collective Conference, London
Working with Large Touchscreens
21 March 2014

Pocket Gamer Connects, London
Tap Happy Sabotage Live Demo
20-21 Jan 2014

ExPlay 2013, Bath
Human vs CPU: Unconventional Ways to Challenge Players
31 Oct 2013

GDC Europe 2013, Cologne
Getting Physical with Tablet Multiplayer
20 Aug 2013

Develop Conference 2013, Brighton
Getting Physical with Tablet Multiplayer
9 July 2013

GameHorizon 2013, Newcastle
Re-imagining Multiplayer on Tablet
9 May 2013