Slamjet Stadium

Gold Award Winner - Pocket Gamer
New & Noteworthy in 61 Countries
"This is anarchic, free-wheeling indie gaming at its finest, and shows just how far a bit of innovation can go"
Gold Award - PocketGamer

"A fantastic example of the kind of innovative gaming that could only really work on a touch based tablet"
148Apps
Slamjet Stadium is the latest iPad game from indie developer Alistair Aitcheson, creator of Eurogamer Indie Arcade finalist Greedy Bankers vs The World. Challenge your friends to ruthless futuristic matches! Charge your hoverbike and slam the ball into the goal! Steal your friends' players and fling them into traps!

The rules of the game are simple, and the rules of social conduct are there to be broken. You can grab your opponent's players as well as your own, push them out of the way, or grab a teammate and play two-against-one. Wormholes, moving goals, ridiculous powerups and deadly traps give you more incentive to play dirty!

Many thanks to the hugeley talented Tom Parfitt, who composed the music for the trailer and is creating music and audio for the game.


Screenshots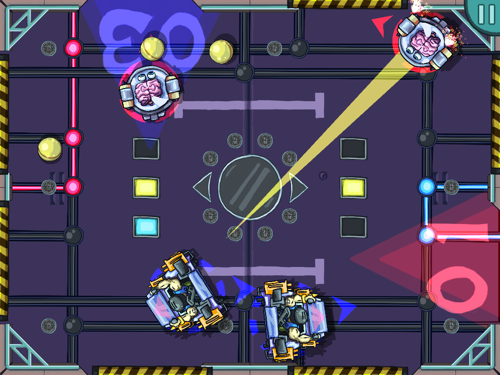 Photos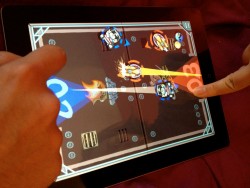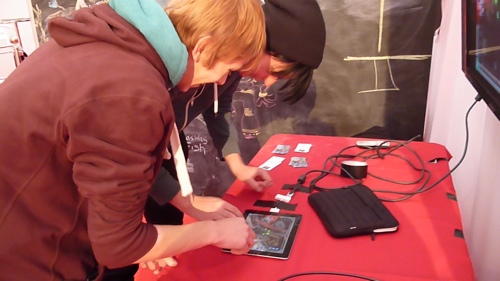 More Reviews
"[a] chaotic maelstrom of hands and laughter"
The Guardian
"Alistair Aitcheson's air-hockey remix is scrappy, silly sporting madness."
EDGE Online

"It's impossible to describe how much chaos can be involved and how competitive games can get"
CalmDownTom

"Tons of action-packed twists every way you turn, and that frantic addictiveness of a great arcade game"
GameZebo
"Slamjet Stadium is a must-buy for fans of frantic, action-packed sports games with a killer multi-player mode for when you've got company"
Dial-a-Phone
Previews
Getting Physical With Slamjet Stadium (Interview)
148Apps, 5 March 2013
Your next local multiplayer addiction on iPad (interview)
PocketGamer, 28 January 2013

ConsoleNinjas Podcast Interview Episode 18
18 February 2013
Greedy Bankers dev bringing futuristic footy-esque sports title Slamjet Stadium to iPad
Pocket Gamer (17 Jan 2013)
Crossfire for the 21st Century
Hookshot Inc. (8 Nov 2012)
Making of Slamjet Stadium